Book One of the Pirate Wolf Trilogy is Across A Moonlit Sea and takes me back to my first love: pirates and tall ships, sea battles and privateers fighting along the Spanish Main. This is the story of Simon Dante, the Pirate Wolf, and the only woman who could possibly steal his heart, Isabeau Spence. Together they sail with Sir Francis Drake to the port of Cadiz, attacking and setting fire to the ships amassing to form the Armada the Spanish king intends to launch against England. A swashbuckling adventure and a steamy romance in one.


Click on the stack of books to go to the HOME page where you can find a full list of all my books, links to samples, email, my blog.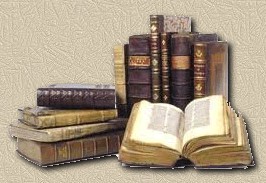 Book Two in the trilogy is The Iron Rose. The story revolves around Juliet Dante, Simon and Isabeau's daughter, who has been raised to fear nothing but fear itself. Juliet commands her own ship and together with her father and her two "hell twins" brothers, they harass the Spanish shipping lanes. The book opens with Juliet coming to the rescue of a British merchant ship being attacked by a Spanish galleon. On board she meets one of the king's envoys, Varian St. Clare, who gives proof to the cliche, never judge a book by its cover, or in this case, never judge a courtier by his plumage *g*



For those who like one stop shopping/reading, all three of the Dante books are available in one volume, the Pirate Wolf Trilogy. Or, if you picked up The Following Sea and want to learn what happened in the previous two books, The Duet is still available.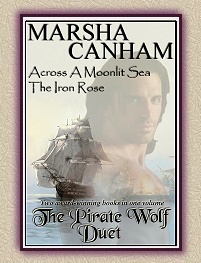 The Following Sea is the third installment in the series. This time the story focusses on Gabriel Dante, taking up where The Iron Rose left off as he sails away from the final battle with horrendous wounds and half a crew on board a captured ship. On his way home to the safety of Pigeon Cay, Dante crosses paths with a strange ship sailing in circles, showing no signs of life on her deserted decks. It is a plague ship, flying a yellow flag, warning all sailors to stay away. ​
On board the

Eliza Jane,

Evangeline Chandler is the only survivor of the fever that wiped out the entire crew. Eva, weak from thirst and hunger, wakens to find death screaming across the sea as a full broadside from Dante's ship explodes around her.